This informal non-profit org is dedicated to the idea that every woman should have access to women's self defense classes. We hope to help protect women everywhere by offering this training in a positive and empowering setting, for free. You shouldn't have to pay for safety!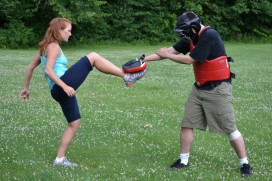 Free!
We offer live classes, and this website for free. We do not operate for profit. It's not about selling expensive DVDs or tasers, it's about the basic human right to defend yourself. It's just a place to learn women's self defense!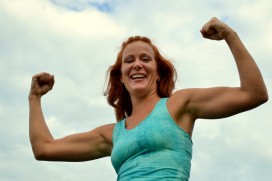 Empowering!
The atmosphere is positive, fun and empowering to make self defense training more approachable for our young or sensitive viewers. It also helps build enthusiasm so people actually want to learn. We avoid scare-tactic marketing and fear-based training. We recognize and avoid the subtle victim-blaming which is prevalent in society.
Safety!
While knowing the moves is important, we'll also show you safe practices and decisions which can avoid trouble before it starts. Basic safety, avoidance, or verbal skills (like thinking ahead, listening to your intuition, or talking your way out) are just as important as any punch or kick! By far the safest way to deal with a physical altercation is to avoid it.
Our Live Classes
At our live classes we cover the safety tips and also provide the training and practice needed to learn the physical moves. If you are serious about learning self defense it is essential that you attend a live class. Just reading about it on the internet cannot replace actual physical training and practice with a certified instructor.
Our Website
On our website you will find safety tips that you can start using immediately, as well as descriptions of physical moves (for inspiration or review), articles, information and resources.