Our organization has come a long way since we were founded in 2006.
The beginning
S.A.S.S. (Safety And Self-Defense Solutions) was created in January of 2006 as "womensselfdefense.info", an informal non-profit org. At this time it was only a free website for sharing information about women's self defense. There was no live class, the information was all delivered exclusively online.
The goal
The goal was simple not just to share information on women's self defense, but to do so for free, in a positive and empowering way. So many others make a profit by charging high prices for classes, books, or DVD programs, and use scare tactics to secure the sale. We believe that every woman has a right to know how to defend themselves, not just the ones who can afford it. We believe every woman has a right to live without fear.
The name
In September of 2008 we came up with the name S.A.S.S. which means resistance with attitude, and stands for Safety And Self-Defense Solutions.
The credentials
In February of 2009 our trainer (already a black-belt in Midori Yama Goshin Jujutsu) made the journey from Grand Rapids Michigan to Cambridge Massachusetts to attend a program at MIT and become a Certified Instructor of Just Yell Fire Street Fighting and Empowerment Program.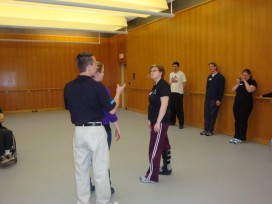 The classes
In 2010 S.A.S.S. begins teaching private classes using the Just Yell Fire method.
In August of 2011 S.A.S.S. obtained a venue and proudly began offering public, free, women's self defense classes in Grand Rapids MI and the surrounding areas. Now area women can have the benefit of a live class, with a certified instructor, at no cost!